Testimonials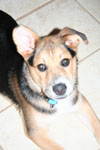 Our one year old dog, Jake, recently started at Doc's Stay n' Play and had a blast. What a great way for our dog to get his energy out, play with his friends and learn more socialization skills. Jake ran and played the entire day with several dogs and with staff observing. When I came in the door, my dog was wiped. He barely made it to the door to great me. This exhaustion lasted two whole days. Amazing! Thank you Karen and staff for bringing this wonderful opportunity to Kingston!
Chris & Allyson Whittaker
Kingston, NY
I would like to share what Doc's doggie day care has brought to our family. We bring our VERY energetic 2 year old black lab (Rosie) to Doc's doggie day care and I feel confident when I drop her off that she is in a place where she is safe, cared for and loved. The staff is always friendly and happy to see her when we walk in and Rosie is equally as excited to be going to "school" where we get to see photos throughout the day posted of all the dogs playing together with great commentary. Doc's doggie daycare is an amazing place to keep our dog exercised and socialized and that ensures that we will always have a happy, friendly and tired dog! Thank you Doc Karen for bringing this to our area.
Christene, Tamme, Isabelle, David and Rosie Spiezio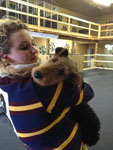 Gracie loves Doc's Stay N play Daycare! She plays all day with all the other pups and the great staff. Not only is she getting so much exercise, but she is learning how to appropriately socialize with other people and dogs. We are so blessed to have such a great Program in our area! We highly recommend this day care and Doc K 9 excellent training center too!!
Cheryl and Howard
Doc's Stay and Play is a wonderful place for Tango to get rid of a lot of energy he saves up when he sits around during the winter. He loves to play with other dogs, and at the end of the day, he's happily tired and content. It's a great idea, and Dr. Karen has designed a perfectly safe, happy and well-supervised environment for the dogs to run and play, and yes, even take naps. It's daycare defined, doggie style, and and Tango thrives with it. Thanks, Doc!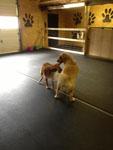 Just wanted to say how much Dylan loves going to day care. He gets all excited when we leave the house and paces in the car until we get to Stay & Play. The level of activity he has there is just what he needs to burn off all that energy. At the end of the day when we pick him up, he gets back into the car and promptly falls asleep! We love seeing the pictures posted during the day so we know what he's up to. Thanks for such an awesome facility!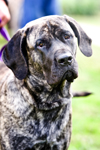 Doc's K-9 Stay and Play Doggie Day Care is a place where I know I can trust my precious pup for the day. Izzie knows that she is in for a great day of play when we pull in to the parking lot. She starts wagging her tail and is smiling from floppy ear to floppy ear. The staff is friendly and caring and I know for the day my dog will be well loved. Thanks Doc Karen and Staff!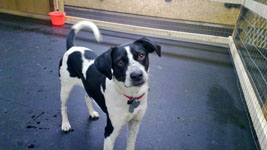 I can't say enough how great Stay 'n Play is! Duke starts whining to get in when I pull into the parking lot, and he's off to play with his friends without so much as a glance back at me. He clearly has a good time with his new pals, as evidenced by the photos posted throughout the day on your Facebook page. (I'm not even a member of Facebook, but I can check your page throughout the day to see what's going on, and I love that!)
My tireless bundle of energy comes home so happy and sleeps the best sleep of the week. I even get to sleep in a little later the next morning!
Thanks for making such a great, fun, and safe place for the four-legged set.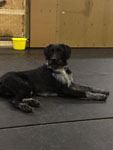 We would like to thank you for opening up this wonderful exper ienc e for Joseph Gordon "Joey". What a great place for him to b e able to go while we work all day . He practically drags me across the parking lot to get inside to play with the other dogs. It is a great opportunity to keep him well socialized and active. Keep up the great work! Sarah & Bree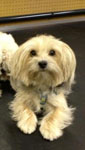 Our 16 month old Morkie, Cody, recently concluded his second stay at Docs K9 Stay 'N Play. He met two wonderful playmates during agility classes and all three have enrolled in Stay 'N Play. Charlie, Jake and Cody have had the opportunity to become even more socialized while playing together at Stay 'N Play. Cody who normally experiences separation anxiety, now eagerly leaves me at the sign in desk, while he prepares to meet his buddies. He also sleeps very well that night. I enthusiastically recommend Docs K9 Stay 'N Play to anyone considering Dogie daycare.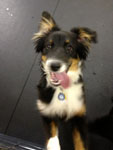 Maggie loves coming to Doc's Stay & Play. Great place for her to be when I can't be home with her. Don't have to rush to get everything done. I know she's safe, well cared for and having a ball! All I have to do is say "We're going to Doc's" in the morning and she gets all excited! She's a tired pup when she gets home, too.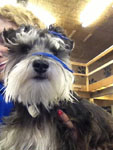 Piper runs in when I bring her and it is like I am not there. She says so long Mom I am here to play with my friends. She just loves it!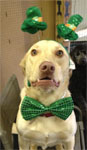 Bentley is a very high energy 1 1/2 year old lab mix. We started taking him to Doc 's K9 Stay N Play right when they opened and he absolutely loves it! He is usually home alone all day, so once a week he gets to hang out with other dogs that love to play, and a great staff that takes good care of him. As soon as we walk in the door, he just runs inside without looking back. We love to see the picture updates online throughout the day and to know that our Bentley is being well taken care of! Big thanks to Doc and her amazing staff!
Justin & Mariana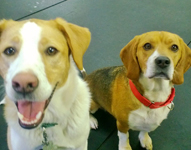 Can't thank you enough for bringing Stay & Play Daycare to our area. The center is beautiful and sparkling clean every time we arrive. Copper and Sophie love going to play with their friends. The interaction with other dogs and exercise they are getting is wonderful, keeping them very happy and healthy. I do believe Copper is even shedding a few of those extra pounds he gained over the winter and is slowly getting back to his ideal weight. Your well trained staff, Linda, Blythe and Chrissy are an extremely professional, amazing group of ladies and they handle all the dogs with great care and compassion. We look forward to the pictures and videos of all the Friday playmates that appear during the day and never worry when dropping them off Friday mornings . Bob and I trust you and your staff completely with our beloved Sophie and Copper. We wish you the best of luck with the center and look forward to many more fun days at daycare!
Sharon & Bob
Our high energy puppy George loves Doc's K9 Stay & Play. He gets so excited getting out of the car and leads us to the right door and never looks back. He spends the day playing and socializing and we get to enjoy the time without worrying about our puppy being lonely and we know he's in very good hands. Everyone is so friendly and helpful at Stay & Play and we get updates, photos and videos of him playing throughout the day. We couldn't be happier about our decision Gloria & Steve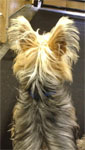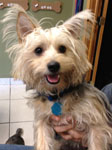 We cannot say enough about Doc's K9 obedience and agility classes. We have been taking our 16 month old Morkie, named Jake since he we got him, and have been so impressed with the facility and Doc Karen and her staff. Jake looks forward to his class each week and he has made so many friends. We also have made a lot of new friends and also look forward to each week. I feel that it is very important for dogs to socialize with both many people and also other dogs! He enjoys himself so much with playing and also with all he learns each week. We feel he has really become a well rounded dog and he is a pleasure to own! We were so thrilled when Doc Karen told us she was opening her Stay N Play, Jake and his friends Charlie, and Cody all decided to go on the same day, so they could have more time together. I enjoyed watching the pictures and videos of all playing together on Facebook, and I knew he was in good hands and that he was having a GREAT TIME! I truly recommend Stay N Play for all dogs! They really need to get out and see friends just as much as we do! Ann and Dan Illian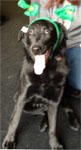 Our friend Pat told us when we first got Clover "that a tired dog is a happy dog". Well when Clover comes back from Doc's K9 Stay & Play she is ecstatic ! We a re so happy we found a place where she isn't just placed in a cage, but instead she is interacting, playing, running & romping, given some sleep time & then it's back to playing. The facilities are well set up, the focus really is on the dogs and the staff is fantastic!! Blythe is even trying to get Clover past her fear of brushes! Anyone in the Kingston area do not hesitate to bring your dogs here, they are wonderful!!

Mike & Liz Gurdin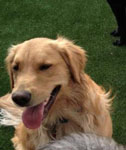 We were standing in line for StaynPlay. From our experiences with Doc as a trainer we knew the care would be top quality. Our expectations have been more than met. Blythe and the other women are energetic, knowledgeable and skilled. The dogs are carefully introduced to each other with temperment, age and size taken into account. Ben comes home tired and happy, but even more than that, he is being fully socialized in a safe, fun environment. StaynPlay has been a godsend to us because we've had a lot of family illness in the past two months. Knowing that Ben is cared for and happy has made needing to be away during the day much more manageable and has reduced our stress. We tell everybody we know how terrific a resource it is. Thanks to Doc , Blythe ahe rest of the staff.
Pam Wright and Leanora Kovacs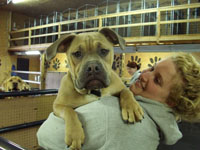 Roscoe loves going to stay and play! Dr Karen and the staff are so kind patient. We have seen a huge improvement in his behavior since he's been going! This was just what he needed.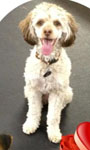 Our family has had dogs for most of our lives and they all have been great dogs with us in our home. When we decided to get Charlie Brown, we wanted a dog that would excel both inside and outside of our home. our vet recommended Doc's K-9 so we started with puppy kindergarten and went through obedience and now agility and the new Doc's K-9 Stay & Play. Charlie is 16 months old and is already the most well rounded dog we have ever had. People often ask us why we need doggie daycare and we tell them, we don't need to take him but want him to be comfortable around new people, places and other dogs - plus he loves it! The socialization he gets at Stay & Play and other classes make introducing him to new things a breeze. As an extra bonus we really enjoy the new friends (both dogs and humans) we have made along the way. Thanks to Doc and her staff for helping us make Charlie Brown such a happy, confident and well rounded dog! If you want your dog to be the best they can be Doc's K-9 and Stay & Play really Nail it!!!!
Gary & Carla Schoepflin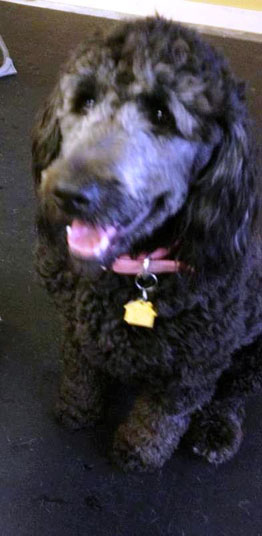 I cannot say enough to describe all of the positive benefits I have received from Doc 's K9 Center and Stay n Play Doggie Daycare.I have a year old Goldendoodle named Libby. She is a wonderful and affectionate companion. She is great with kids and loves to play with other dogs. She has evolved into the great dog she is today as a result of the training and socialization, and the great tips from Doc on dog behavior.
Libby started as a puppy in Puppy Kindergarten, went into agility, basic obedience and advanced obedience. It is very obvious that these classes that I did with her has groomed her into the great dog that she is today.

I have a demanding job and I could not rest easy when I had to sleep if it weren't for Stay & Play. Libby loves going to play with her friends. The staff is great and Libby loves them as if they were her own. She uses up all her excess energy and sleeps when I go to work.

A situation had occurred recently that made me grateful for the time and effort I have invested in the training of Libby. I recently stopped at the Post Office, when an elderly gentleman pulled in to close to my car and I got out to advise him about it, and did not realize that I had left the door open, not realizing this and not telling Libby to stay, she jumped out of the car and I was able to call her back into the car immediately without running off.

Thank you, Doc Karen for putting your heart and soul into doing what you do. The canine community and their owners Love You.

Ella Moore